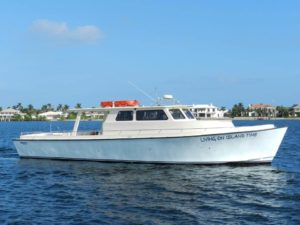 With over 40 years of Florida Deep Sea Fishing experience, Captain John Schulz has helped design a beautiful new custom 60 foot walk around Deep Sea Fishing Boat. "Living On Island Time"  is fully licensed by the US Coast Guard for up to 41 passengers. She boasts a 20 foot wide beam that provides an exceptionally smooth ocean ride experience even when the waters become moderately choppy.
The heart of this lovely fishing lady is powered by twin Cummins turbo diesel engines. Setting sail from the Palm Beach Yacht Center guarantees the Living On Island Time customers the quickest access and the longest real time fishing excursions. We sail through the best Boynton Beach Fishing, Lake Worth Fishing, Delray Fishing and West Palm Beach Fishing areas.
On the exterior of the Boat
This beauty has plenty of bench seating that runs from bow to stern on both sides of the vessel. She also has a large overhead canopy that provides plenty of shade and protection from the elements if needed. We also have eight underwater LED lights for our night time fishing trips and to liven up the nighty atmosphere!
In the interior
We pride ourselves in a very well maintained and clean salon area which is fully air conditioned or heated depending on your fishing season. There are two full size tables with bench seating to enjoy your eatable goodies.
At the Captains helm, Living on Island Time is equipped with state of the art sonar/radar equipment to track and monitor the constant changing fishing conditions. Down below it has very clean bathroom facilities for the men and lady customers of the vessel.
We strive to set ourselves apart from the rest by providing quality customer service for both, new and regular customers. Living on Island Time prides itself on giving customers personable service and attention so they can embrace the unsurpassed atmosphere that Living on Island Time deep sea fishing can bring. So why settle for less? We welcome everyone to come aboard and enjoy Living on Island Time.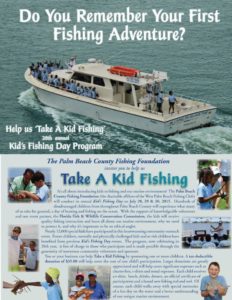 It's all about introducing kids to fishing and our marine environment! Since 1988, the  Palm Beach County Fishing Foundation, along with the assistance of volunteers and important community partners like the Marine Industries Association of Palm Beach County has conducted an annual Kid's Fishing Day Program. Each year, hundreds of less fortunate, at-risk and special needs children from throughout Palm Beach County experience what most of us take for granted, a day of boating and fishing on the ocean. It takes three days and 12 separate drift boat trips to get all the kids on the water. More importantly, because of this program's strong educational component, the kids learn all about our marine environment and why we need to protect it. This is accomplished through a variety of hands-on educational stations based on land, which includes the Florida Fish & Wildlife Conservation Commission's Marine Touch Tank.
For More information, please visit the West Palm Beach Yacht Club Website:
http://www.westpalmbeachfishingclub.org/kids-fishing-day.php
For Driving Directions in Google Maps:
The Palm Beach Yacht Center
7848 S. Federal Highway
Hypoluxo, Florida 33462
Call : (561) 585-4473
All Major Credit Cards Accepted

With a 3.5% Processing Fee