*Please Call for most up to date Schedule & Rates*
COVID-19 UPDATE
ATTENTION PLEASE!
Opening Thursday April 30, 2020
We are able to open back up but at limited capacity for now .
Daily Trips:
8:00am-noon and 1:00pm-5:00pm
Cost: $60.00 person.
Offering Night Trips:
Wed, Fri,Sat & Sun from 6pm-10pm
Must wear a mask or facial buff.
Passengers will be 6 feet apart at all times.
Sorry we cannot except any discounts or coupons at this time.
Reservations are strongly suggested and are held with a credit card .
Please call 561-585-4473
Thank you and stay safe !
8:00am-Noon & 1:00pm -5:00pm Trips Everyday!
Night Trips are seasonal or for private charters. Please call 561-585 -4473
Daily Deep Sea Fishing excursions are as follows:
4 hour Deep Sea Fishing Morning trips sailing from 8:00a.m. To 12:00 noon
4 Hour Deep Sea Fishing Afternoon trips sailing from 1:00p.m. To 5:00 p.m.
Living on Island Time new Fall schedule is as follows; sailing 7-days per week
8:00am-noon and 
1:00pm -5:00pm everyday !
Blocked dates and Sailings:
Occasionally we will have blocked dates and sailings for a private charter. Please call ahead, check the home page of the website, or check our facebook page for up to date information.
Costs for all Fishing Trips are as follows:
Spectators - $60.00
Adults  - $60.00
Children  (6 -12 years old)  $60.00
Students, Military, Seniors, Law Enforcement, First Responders & Teachers With ID -  $60.00
*Prices include all gear, bait, and licensing.
(May bring your own gear and belongings.  Island Time and Crew is not responsible for any lost, damaged, or broken gear)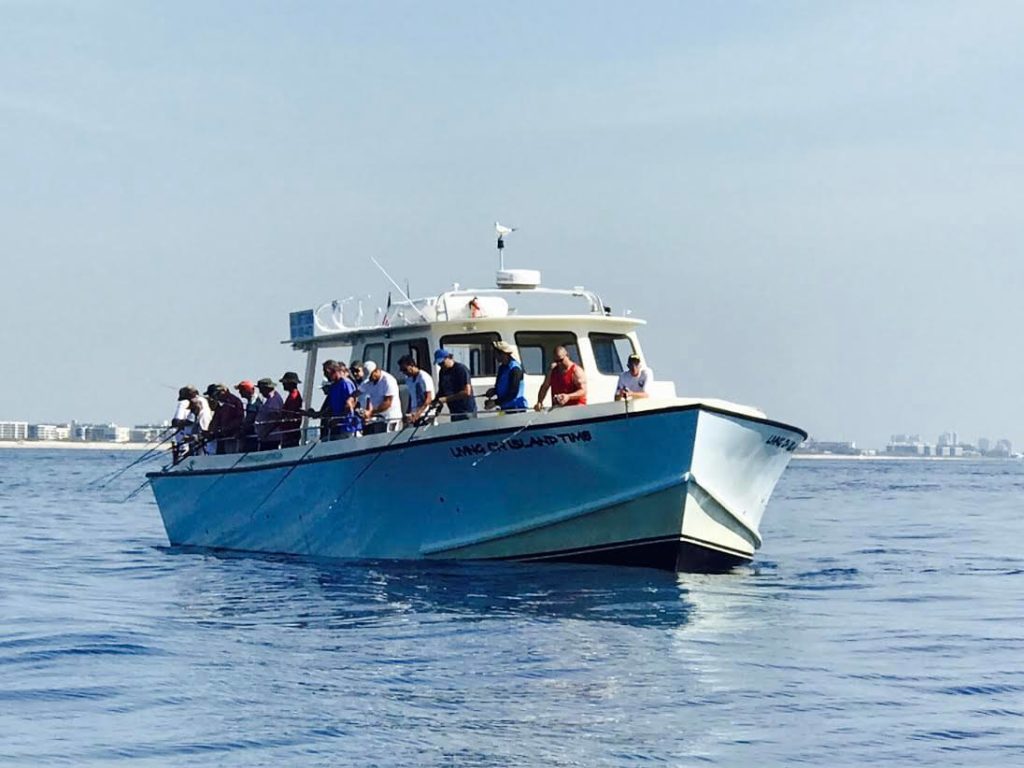 All deep sea fishing excursions set sail from the Palm Beach Yacht Center giving our customers the quickest access and the longest real time fishing excursions to the best Boynton Beach Fishing, Lake Worth Fishing, Delray Fishing and West Palm Beach Fishing areas.
Living on Island Time, LLC, is not responsible for loss or damage of personal property brought onto our vessel.
GIFT CERTIFICATES ARE AVAILABLE FOR PURCHASE
For Private Charters, please call (561) 585-4473 for more information.
"All major credit cards are accepted"- Visa, MasterCard, Discover and American Express
CREW GRATUITIES ARE NOT INCLUDED IN OUR PRICES
We provide bait, tackle, rods, reels, and a fishing license for each of our guests We have an air-conditioned indoor salon area for our entire guest to enjoy at their leisure
"All major credit cards are accepted"- Visa, MasterCard, Discover and American Express
All Major Credit Cards Accepted